Attachment styles are how we connect to people. In childhood, we develop these ways of connecting based on how our caregivers interacted with us. These patterns of connecting exist from cradle to grave and greatly impact our adult relationships. If you have ever wondered why conflict never gets resolved, or you feel like there's more and more distance between you and your partner, attachment triggers may be at play.
Attachment theory originated from the work of John Bowlby and later on Mary Ainsworth. Bowlby defined attachment as "lasting psychological connectedness between human beings." Our desire to connect is wired in our DNA, and if you grew up with a caregiver that was attentive to your needs and provided a consistently safe and nurturing environment your ability to connect and maintain a healthy relationship in adulthood is more likely.
Attachment Styles
There are 4 main attachment types that have been identified; Secure, Anxious, Avoidant, and Disorganized.
As a Child: You had a caregiver that responded to your needs, provided a safe and predictable environment and communicated to you that your wants and needs were important. You felt safe and cared for in relationships with others and developed the lens that people are good and safe.
As an Adult: You desire closeness and generally feel good in relationships. You are comfortable with intimacy and don't avoid connection or become overly clingy. You feel comfortable asking for help and getting support from others.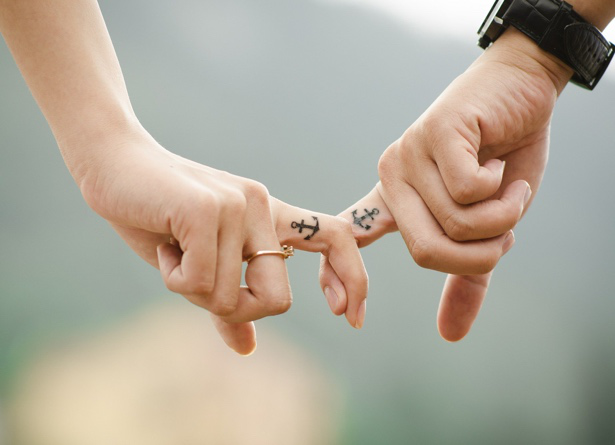 Anxious Attachment
As a Child: You had a caregiver that was unpredictable in their responses. At times they were attentive and nurturing, at other times they were insensitive or unavailable. You never knew what "type" of parent you were going to get, so as a way to get your needs met, you became overly clingy and desperate to be seen.
As an Adult: You crave closeness and love being in relationships but often feel that your partner does not desire to be as close as you would like. You tend to need a lot of reassurance that you are cared for. In times of conflict, distance makes you feel unsettled and anxious. You prefer to talk things out right away and need to know that the relationship is "good again" before you are at peace. You need a lot of communication that may be perceived as nagging or may be expressed through anger and yelling if you do not feel heard and validated. You may hear your partner say things like "I just need some space at times." Your Biggest fear is being abandoned.
Avoidant Attachment
As a Child: This is the least common and most challenging of the attachment styles. Disorganized attachment is believed to develop when a child grows to experience or witnessing abuse at the hands of a caregiver. Love and pain are intermingled which causes deep confusion when it comes to where to turn for support and love. This child exhibits puzzling behaviors such as crying for a parent but then hitting than when they show up.
As an Adult: You are high on avoidance and low on anxiety. You tend to be uncomfortable with closeness and put a high value on your privacy and independence. You struggle with asking for help and communicating your needs. In times of conflict, you get flooded with emotions and tend to shut down. You may come across as uncaring and cold. It oftentimes feels like partners are trying to invade your space. Your biggest fear is rejection.
Disorganized Attachment
As a Child: You had a caregiver that wasn't attuned to your needs at all. They were distant, cold, or unavailable. This could result from a caregiver that was absent due to work, addiction, depression or anything else in between. You learned that you had to take care of your own needs and that people were not to be depended on. You felt that your feelings didn't matter which resulted in thinking that you didn't matter.
As an Adult: You are high anxiety and high avoidance. You crave connection but then fear to be close. You want to feel loved but your anxiety, negative self- image and confusion make it hard for others to connect with you, which furthers your sense of loneliness and worthlessness. You may be overly attached and then become very suspicious and cut off communication with a partner. You get stuck in the dance of I want to be near you but I don't trust you.
Can attachment styles change?
Can you see yourself in any of these descriptions? Or maybe you find that you hold bits and pieces of more than one. We all tend to have one primary way of connecting, however, we can also have pieces of more than one attachment style. You may also exhibit different ways of attaching depending on the partner that you are with. Although we all should strive to be securely attached, if you are not, that doesn't mean your relationship is doomed. Attachment triggers can be shifted when there is an awareness of when it shows up, and how to not go back into your default patterns of protecting yourself. Creating a safe relationship where there is an opportunity for vulnerability is key. Of equal importance is showing respect for space and the connection that you and your partner need. When you both are aware of your attachment needs and are willing to respond in a new (yet uncomfortable) way, you can make different moves that attune to each other's needs in a way that fosters a secure bond. You calm the inner child that gets activated, respond from your adult self, and help each other heal.
Tools to change
1. Know your attachment style
2. Know your partner's attachment style
3. Practice self-soothing techniques such as deep breathing and meditation, so that you can better respond in times of stress.
4. Communicate what you need in times of conflict/stress
5. Couples or individual therapy can help you understand the best way to communicate your needs without triggering your partner, and address childhood wounds that created the attachment style.

f you are interested in finding out what your attachment style is, here is a link to a quiz:

I also recommend the book ATTACHED by Amir Levine, M.D. and Rachel S. F. Heller, M.A. for anyone that is in a relationship or ever plans to be.