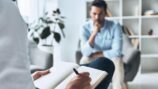 Always does a great job of getting me to ask the tough questions and keeps me thinking. And she genuinely cares, which is awesome!

"Josh has been providing my husband and I with the necessary resources that help us to identify, process, and work through the difficulties in our marriage, and ourselves. One example would be the way we communicate with each other. When our sessions with Josh started to present day, our communication has become healthier, because we are learning how to be better listeners."

"Working with Josh, has helped me grow for myself and the others around me. I've learned how to properly control my anger and frustration and learn to let it out in a healthy manner. I've also learned more about communication and being more open with others about my feelings and understanding theirs. The short time I have been seen has helped me make serious strides with my mental health and I'm continuing to do so moving forward."